We've added fees as a new element to circulation management. Fees are used to manage amounts owed to the institution by patrons. For example, overdue loans might incur fines, or a manual fee can be added when handing out library cards.
Fees are implemented as a separate object that is connected to a particular patron. They can be manual and separate from any item, or they can be automatic and connected to a certain item. Likewise, payments are connected with fees.
You can search, export and manage fees and payments from Global Lists. They are visible to patrons from the Your loans page, and current, active fees are also displayed in the circulation check out pages for context.
We've also extended circulation rule management to support the automatic creation of fines. These automatic fines are similar to loan rules, and govern when and how much fines are added to patrons when checking in items that are overdue.
We've added fine thresholds to loan rules and patron types, which allows to set limits on the amount of fees a patron can have before checkouts and renewals are blocked.
Fees have been used by a select few customers as part of a beta access program, but we are now making fees generally available for all customers.
Read more about this in our documentation.
Customizable request and overdue workflows
[Workflows | ILS]
We've implemented a new way to visualize and configure workflows, which are automated processes that handle both long and short-running tasks, such as overdue notice workflows, loan recall workflows or similar.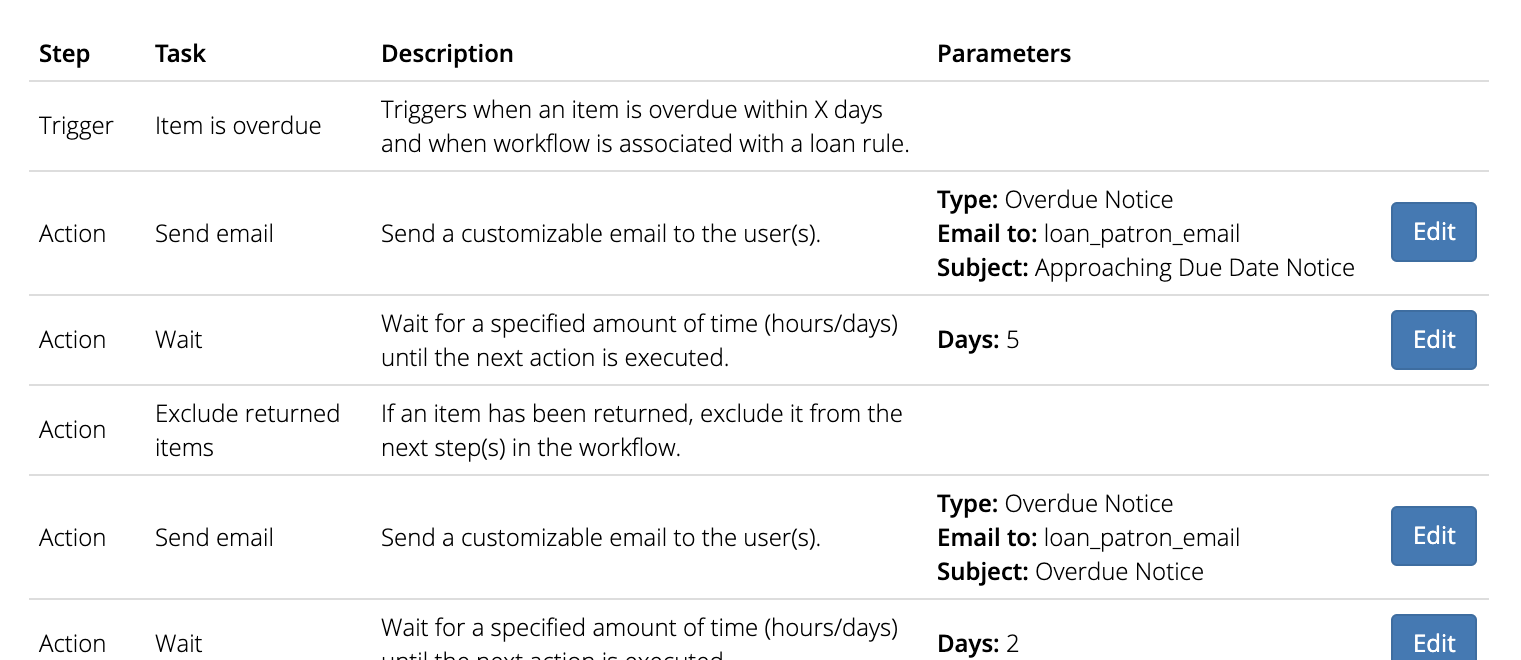 Many previous workflows were hardcoded and followed a static set of steps that were the same for all customers. With this new development, the individual steps, their configuration and order can be customized in a flexible and easy way through TIND Support.
By default, these previous static workflows have been reimplemented and follow the same set of steps as before. In general, libraries can expect their current workflows to work the same in the new framework.
As part of this development, we're changing the way automatic notices are set for loan rules. Previously, this was either a yes or no configuration. With this update, loan rules can instead be associated with particular overdue workflows. Out of the box, we are offering three overdue workflows that are duplicates of the previous static workflow. Loan rules that were configured for automatic email notifications will be associated with the default overdue workflow.
Each overdue loan workflow can be individually configured to support different notification scenarios. While basic configuration is accessible to admin users, most complex configuration must be done through TIND Support. If necessary, more overdue workflows can also be added through TIND Support. We hope to be able to continue with this development to open up and allow more configurability by library admins.
While a big part of this development is an internal framework, we are excited by the possibility to develop more custom workflows in a productive and scalable way.
As with fees, workflows have been used by a select few customers as a beta product, but are now made generally available.
Read more about this in our documentation.
New File Manager
[Files | IR, DA, RDM]
We've developed an alternative file manager that sports a revised design, can manage custom file-level metadata such as license and publishing version and handles direct-to-object storage uploads.
The new file manager is a beta feature enabled for a limited set of early access customers, with plans for a general availability in the first part of 2021.

The new design incorporates recognizable components from other parts of the platform, which results in a more consistent overall user experience.
Custom metadata can be completely configured on a customer by customer basis, and the file manager responds by showing input elements offering the available options. For example, if a license field is configured, the available licenses are shown in a drop down menu. If a field is configured to be mandatory, the file manager will enforce it.
The file table in the record page has also been updated to support rendering custom file metadata. The license column, which was previously rendering data from the bibliographic field 542, can optionally be configured to instead render from a file level license field.
In addition to custom metadata, we are introducing the concept of explicit file order. Previously, files were ordered alphabetically by the file name. Using the new file manager, individual files can be reordered using a drag and drop interface.
Thumbnail generation and media previewers will render files based on the explicit order, and files can be explicitly ordered alphabetically using a new ORDER-NAME-ASC FFT action.
The current file manager will remain the default for all customers, while we continue to improve and develop upon the new file manager.
Read more about this in our documentation.
Automatic OCR on ingested files
[Files | IR, DA, RDM]
As part of the new file manager, we are also working on automatic OCR on ingested files.
When configured, the system will automatically generate hOCR files for images, attach them to the records and essentially work as if you had uploaded hOCR files manually. For PDF files, the system can either completely replace the PDF file, add a second PDF file with _ocr appended to the file name, or create a new version (preserving the unprocessed PDF file).
As we are still adding new improvements to it, the OCR feature will not be generally available yet. When ready, it will be offered as a paid service. Customers interested in a beta evaluation are invited to contact TIND Support.
Read more about this in our documentation.
New model for blocked patrons
[Circulation | ILS]
Patrons can now have individual blocks associated with them, allowing better control over when to restrict access to circulation services.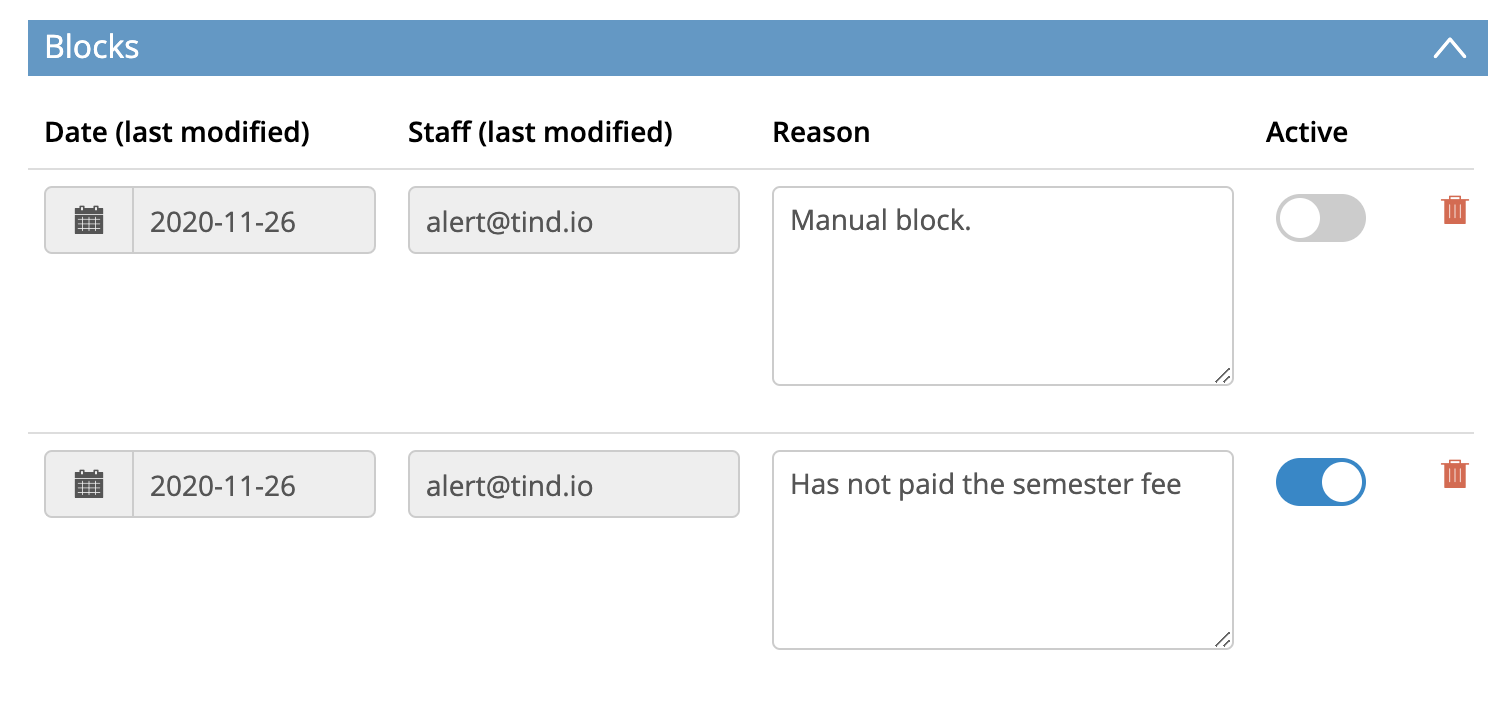 Previously, we recommended modeling blocks by creating a patron type BLOCKED and associating this with a loan rule that didn't allow loans, renewals or requests.
Blocked patrons are now instead handled using dedicated properties of the patron record. In the patron editor, a section Blocks shows a list of the blocks associated with a patron. Each block has a creator, a creation date, a block reason and a block status.
Circulation actions - i.e. loans, renewals and requests - are denied if at least one active block is associated with a patron. If configured, library staff may override checkouts for blocked patrons.
Patrons that have the special BLOCKED patron type will have a system generated block automatically added to their patron record. The note text for this will be "Manual block.". The patron type will remain BLOCKED, and any loan rules associated with this patron type will not be removed.
Read more about this in our documentation.
Performance improvement to reindexes
[Search | ILS, IR, DA, RDM]
Certain reindexes can now be made more effective by scoping the reindex to a single tokenizer (for bibliographic search) or a single table (for global lists search).
Callout banners for restricted records
[Record Page | ILS, IR, DA, RDM]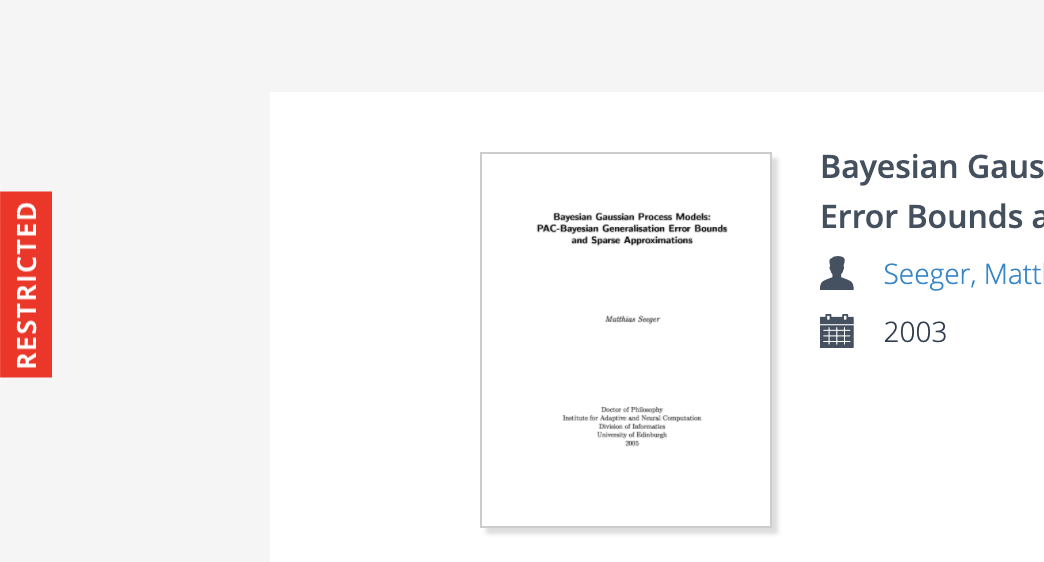 Restricted records and records outside of the collection tree now renders colored banners on the left side of the page, in order to signal that the record is restricted. A red banner is shown for restricted records, while an orange banner is shown for records outside the collection tree.
More accessible advanced search
[Search | ILS, IR, DA, RDM]
Advanced search has been updated with more accessible input fields. The functionality is the same, but the visual look is slightly changed and the underlying HTML is easier to parse for assistive software.
Bibliographic record reindexing on authority record updates
[Misc | ILS, IR, DA, RDM]
When updating an authority record, the automatic update of bibliographic records now schedule a reindex. This means that searchable alternative terms now update correctly after updating an authority record.
Read more about this in our documentation.
Configurable chunked downloads for PDF previewer
[Record Page | IR, DA, RDM]
Storage backends that don't support chunked downloads could affect the performance of the PDF previewer. The previewer can now be configured to request bigger chunks to work around the performance issues, resulting in faster previews.
SRI on CDN assets
[Misc | ILS, IR, DA, RDM]
Subresource integrity hashes have been added to all CDN assets.
Improved search results view for Z39.50 imports
[Integrations | ILS]
When importing records using Z39.50, the result table now shows 264 in the publisher column, with a fall back on 260. Additionally, for authority records, the title column renders the preferred heading correctly.
Improved
meta

tag mapping [Integrations | IR]
Added several field mappings as meta tags in the HTML header, which improves the integrations with Altmetric and Google Scholar: ISSN (022__a), Publisher (264_1b), Author (110, 710).
Improved translations
[Record Page | ILS, IR, DA, RDM]
Added Italian and German translation for Actions and Statistics sections.